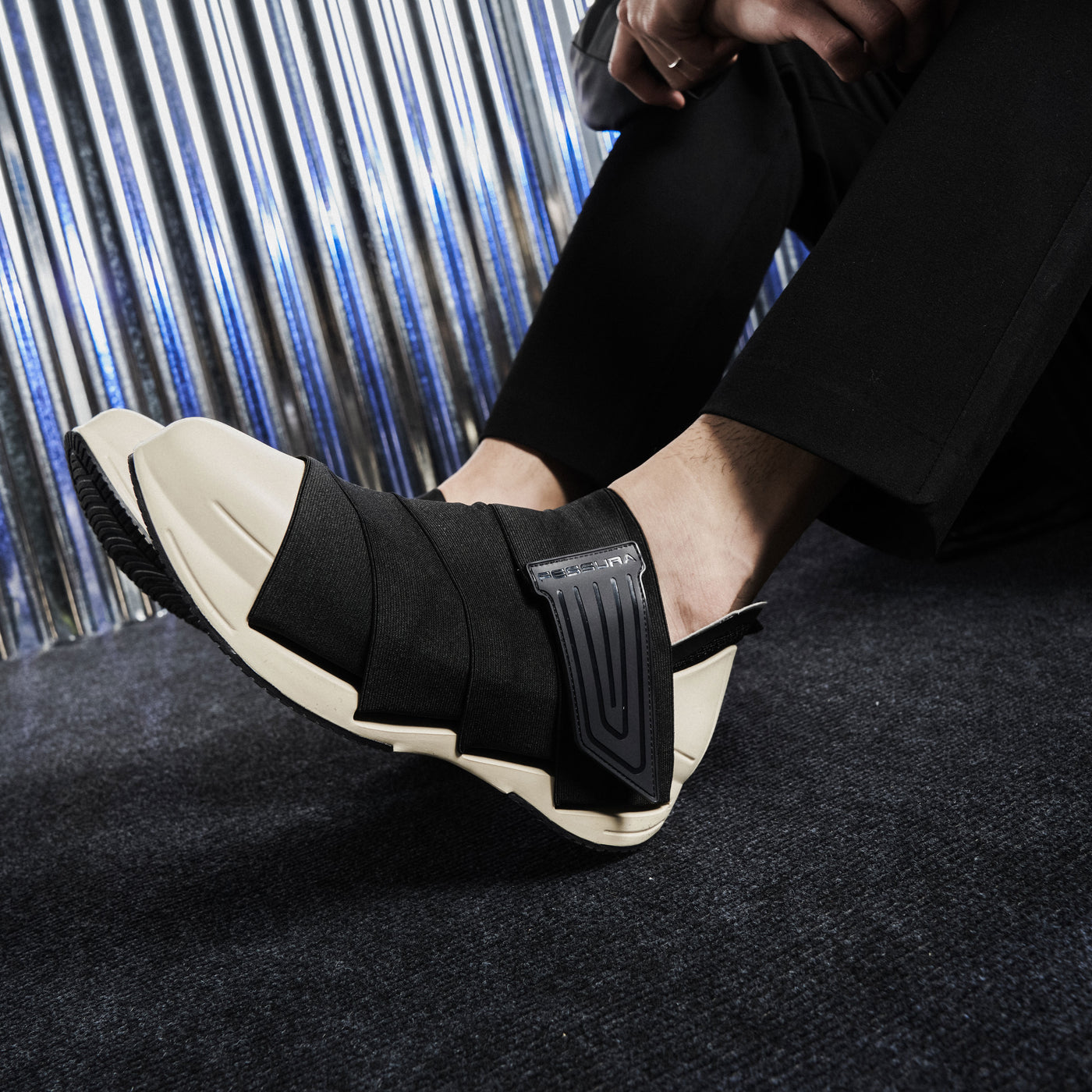 FESSURA
CHANGE®
CHANGE® is a system designed to build footwear without machinery, glue, or stitching. It is not only a design and fashion product but a technological shoe that involves the end customer in its construction. The concept is straightforward but, at the same time, ingenious. The sole remains the base of the shoe while the upper, a 1-meter-long elastic band, slips into the SLITS (FESSURE) in the sole itself, allowing a shoe to be manually and easily composed. Customers are free to change their shoes' color and style anytime, experimenting with imagination and creativity. Patented for Industrial Invention, FESSURA CHANGE can be considered a pioneer of Eco-sustainable footwear, as the lack of the classical industrial construction process reduces Co2 emission by at least 50 percent.
FESSURA
SOCKSHOES®
SOCKSHOES® is a system designed to make shoes as comfortable as a sock but at the same time as stable as traditional footwear. Through this Industrial Invention Patent, FESSURA is the benchmark for deconstructed footwear and has started a trend that has become global, greatly influencing the way footwear is designed and made. Its upper can be machined in a single piece, reducing the waste associated with regular cutting and sewing techniques and offering a new experience of comfort and easy fit thanks to its slip-on system. Finally, the cross-over design makes it suitable and trendy for any occasion.
FESSURA
REFLEXSYSTEM®
REFLEXSYSTEM® is a system designed to offer new sensations of movement, a system designed for people who want to improve their walking lifestyle. Its secret, Patented by Industrial Invention, is in the upper membrane and four pads inserted in the sole that absorbs and simultaneously release ENERGY in different areas of the foot according to the principles of Reflexology. The four pads form 4 Areas: MIND, the highest area of the sole located under the toes; ENERGY, immediately behind the toes; VITALITY, situated in the foot's arch; and MOBILITY which is located precisely on the heel. REFLEXSYSTEM® triggers biomechanical, physiological, neuromuscular, biochemical, and bioelectrical reactions by absorbing the energy of the foot's impact and returning it as it is lifted off the ground. All this is done according to precise timing and methods typical of its design, and the slogan ENERGY IN MOTON was coined to express this technology in just two words. The exclusive "extra bounce" formula of XL EXTRALIGHT®, the innovative super-light, flexible, shock-absorbing, and high rebound technology from FINPROJECT S.p.A. Group was chosen for the REFLEXSYSTEM® bearing system.
"THAT'S JUST THE BEGINNING"